The Ageing Smile with Brisbane Dental Implant Group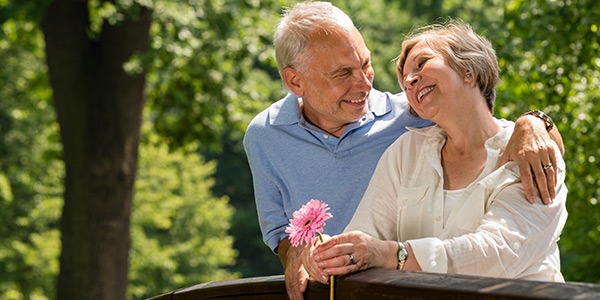 As you get older your mouth and teeth will go through an ageing process much like your face and your body
We all know that as we get older our joints can begin to ache and our skin wrinkles, but what you may not know is that your mouth also undergoes changes. 'Wear and tear' will affect the enamel of your teeth, as well as increase your risk of decay, which then in turn increases your risk of periodontitis and/or your risk of requiring a dental implant. You will require a dental implant if you lose one or more teeth and here at Brisbane Dental Implant Group we can perform this procedure so that your smile looks good and functions at the highest degree. Your mouth function is especially important as you get older as proper function will maintain your quality of life.
Dental Implants with Brisbane Dental Implant Group
Dental implants are designed to restore and improve your oral function. This is ensured by constructing a custom made dental implant that will be tailor-made to the size of your missing tooth (if it is a singular restoration). If you are receiving a full arch restoration then four to six dental implants will usually be used to secure a prosthetic arch replacement which will look like a denture, however it will be permanently fixed to your mouth. A permanently fixed full arch restoration means that cleaning will be easier (just like it would be with your natural teeth) and it will also be worry-free as you won't have to consider it falling out of your mouth like slippery dentures.
Dental Implants can also be used to support a porcelain bridge. This procedure is most commonly used when you have lost more than one tooth at the back of the mouth. If there is no back molar then a dental implant may be inserted so that a bridge can be fixed to the implant and your remaining teeth – bridging the gap for an aesthetically pleasing smile.
Dental implants have benefits that extend beyond improving your smile
Dental implants are an important mechanism which restore the function and appearance of your smile. They are also necessary to stimulate jaw bone density which can alter the shape of the face, including the jaw bone and cheek bones. Jaw bone density is stimulated by pressure, which usually occurs during mastication or while you're resting. When you rest ideally your jaws should sit together (teeth to teeth) to ensure proper oral posture. This is why mouth breathers often experience a recession in the lower jaw as it is not being stimulated during rest. This is why we urge our patients to mend any gaps with a dental implant that will effectively stimulate density of the jaw bone – a crucial factor to looking your best as you age that dentures do not achieve.
There are generally two reasons why someone will lose a tooth and require a dental implant
Tooth loss generally occurs because the tooth has become damaged beyond repair or it has been knocked out by a dental accident. Another reason is that a tooth may have grown impacted, and could be threatening your other teeth. In any of these situations Brisbane Dental Implant Group can install a dental implant to restore function and peace of mind.
As you get older your risk of periodontitis will increase dramatically. Periodontitis is soft tissue disease in the mouth which is caused by bacteria infecting your gums. This is also intrinsically linked with the risk of tooth decay which naturally increases as you get older as the teeth become weakened by years of use. Once you age over 35 your body will also become more susceptible to life threatening diseases, of which 90% have an oral symptom such as losing teeth without explanation.
If you have lost a tooth without diagnosis of periodontitis or any other underlying condition then we may recommend visiting your general dentist for a thorough evaluation and diagnosis. Once this is complete one of our professionals can perform an implant procedure to ensure your natural smile is restored.
The Brisbane Dental Implant Group team is here to give you superior treatment
Our team of clinicians provide Brisbane with comprehensive coordinated dental implant services. Dr Michael Howard is our dental implant practitioner involved in the planning, co-ordination, surgery and restoration of your implant therapy. Dr Anthony Lynham is our Oral and Maxillo Facial Surgeon who has a keen interest in bone reconstruction providing basis for implant therapy. Dr Peter Russell is our specialist prosthodontist with a special interest in dental implant assistance and support for your prosthetic reconstruction, providing the best outcome in function and aesthetics.
We also have Dr Kent Farmer who is our consultant orthodontist and Nigel Smith who is a physiotherapist who can assist during your rehabilitation.Our onsite dental laboratory compliments our team allowing the fully integrated provision of all your dental implant requirements.
Contact Brisbane Dental Implant Group today for a consultation.