Why you may need bone grafting for dental implants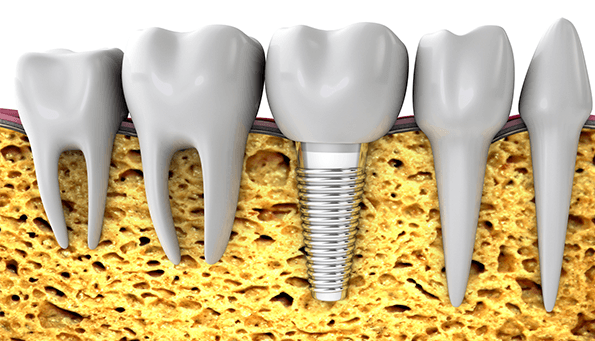 Tooth loss affects the health of your jaw and if not replaced can cause jawbone atrophy
Did you know your teeth look after the health of your gums and your jaw?
Were you aware jawbone density is stimulated by chewing? And if you are missing teeth there's nothing to keep your jawbone healthy.
Did you know replacing a tooth can prevent this?
Click here to read: Why putting off replacing a long term missing tooth is doing you damage
Click here to read: Implant dentistry: look after your whole mouth
Dental implants and your jaw
As soon as you lose a tooth the jawbone which holds the tooth root starts to atrophy. This means the jawbone shrinks away and can affect your other teeth. It also can, over time, give you a sunken aged appearance.
An ideal dental implant patient is one who has good oral health and adequate jawbone density. With adequate jawbone density it allows for the dental implant to fuse and become a strong and sturdy artificial tooth root.
Once this fusion between jawbone and dental implant has taken place then the dental crown, bridge or implant-supported denture can be placed. This allows for a whole tooth replacement which looks after your remaining teeth, gums and jaw.
If, however, you do not have adequate jawbone density, Brisbane Dental Implant Group has two oral and maxillofacial surgeons who can perform bone grafting surgery.
As technology has advanced dentists and specialists have been able to help a lot more patients. One such advance is bone grafting surgery.
This surgery allows patients who do not have adequate jawbone density to receive the treatment they need.
Bone grafting not only replaces missing bone; it also helps your body regrow lost bone. This procedure has now become commonplace—and successful—for patients with insufficient jawbone material.
At Brisbane Dental Implant Group our specialists can assess your oral health and determine the best course of action for you.
One of the key factors we will consider is the reason why you lost a tooth. If it was because of gum disease this will need to be treated first, if you do not have adequate jawbone density, this will need to be treated next.  Once these issues (and any other which may arise) are treated, then we can place the dental implant.
It is important to remember that maintaining an optimal oral hygiene routine is imperative for the long-term health of your dental implant treatment. While it is true a dental implant is impervious to decay, a bone graft is not impervious to gum disease, nor is it impervious to disease.
As we have said elsewhere: perioimplantitis is the leading cause of dental implant failure, and if you do not maintain your oral health you run the risk of suffering perioimplantitis and ruining your oral health and your treatment.
If you would like to know more about bone grafting for dental implants, or to book an appointment at Brisbane Dental Implant Group, please contact us today.