Dental Implants Make Dentures Old Technology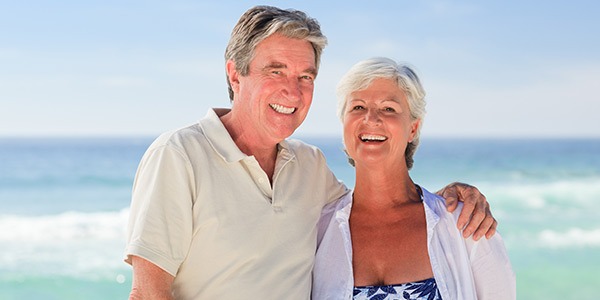 Dental implants are the most advanced and beneficial solution to a missing tooth
Dental implants are the best solution for a missing tooth, and even multiple missing teeth. Before dental implants dentures were used as the main solution to missing teeth. Modern technology has allowed restorative dental practitioners such as the Brisbane Dental Implant Group to streamline the dental implant procedure and improve the materials used to ensure a superior result. Here at our state-of-the-art implantology practice in Brisbane we ensure that all of our patients receive the best treatment possible. Our team of elite professionals will work with you in order to reconstruct your smile and restore function and aesthetics that are far superior to the effects achievable with dentures.
Problems with dentures
There are many problems with traditional dentures that are solved by the installation of a singular dental implant, or a dental implant supported bridge or full arch. A traditional denture is usually a full arch of prosthetic teeth and gum that sits over your natural gum (which does not have any remaining adult teeth). They are used so that you can chew food, speak and appear like you have a natural smile. The problem with dentures is that they are not the most realistic solution for a missing tooth anymore. Nowadays dental implants are the most realistic solution as they don't move around in the mouth which makes them feel and look natural. When compared to dental implants, dentures can even impede speech because they are not fixed permanently, and they may require more careful chewing and swallowing to ensure that your dentures do not slip out of place.
Dentures are also linked to significant mouth irritation which occurs because the denture is not completely connected to or fused with the mouth. Generally if this occurs you will develop mouth sores where the prosthetic gum on the denture rubs against your natural gum. This will cause ulcerous sores which may require medical treatment in order to treat. This condition can be extremely uncomfortable and affect your quality of life, which is why Brisbane Dental Implant Group always recommend dental implants over dentures.
By opting for dental implants instead of dentures you will no longer be required to:
Use denture glue in order to make your dentures stay in place
Speak slowly to reduce the risk of them slipping
Be careful of eating chewy foods
Dental implants improve dental hygiene significantly
Dental implants are much easier to clean when compared to dentures, which need to be removed from the mouth. Dentures generally also need to be soaked in an anti-bacterial wash in order to keep them hygienic and beneficial to your oral and general health. Dental implants on the other hand are permanently fixed to your mouth through your jaw which means that they can be cleaned just like your natural adult teeth.
A prosthetic root made out of titanium will secure the dental implant (support mechanism) to your mouth. If successful this solution will be permanent and solid. Here at Brisbane Dental Implant Group our goal is to give you teeth for life, even if they're not your own adult teeth. We consider dental implants a second set of adult teeth, and they are the best solution for missing teeth or even a full arch restoration.
Dental implants can be used to support a full arch restoration
While most people see dental implants as a solution to a singular missing tooth, they can also be used to support a full arch restoration. A full arch restoration will normally involve using four-six dental implants on each arch – for example four to six on the top arch and four to six on the bottom. This will ensure that a prosthetic full arch restoration can be fixed securely to your mouth to ensure easy cleaning and optimised function and appearance.
Here at Brisbane Dental Implant Group we take the utmost care to construct high quality restorations including dental implants and arch restorations. We will take the time to make sure these restorations look natural, in terms of colour, shape and size so that you can benefit from better functionality and a realistic appearance. Our dental implant crowns and full arch restorations are also constructed out of the most durable material to ensure that you can experience an aesthetically pleasing and durable smile for years to come.
In order to maximise how long your dental implant crowns last we recommend following a thorough dental hygiene regime.  This will involve flossing and brushing thoroughly both morning and night. Your dentist may also recommend an anti-bacterial mouth wash especially if you have prosthetics, if you have an aging smile or if you have a history of periodontitis. This will reduce the risk of losing more teeth (if you have any left) and keep your investment in your smile (your dental implants) safe and functional for as long as possible.
Book a consultation with Brisbane Dental Implant Group to restore your smile.