Planning for your future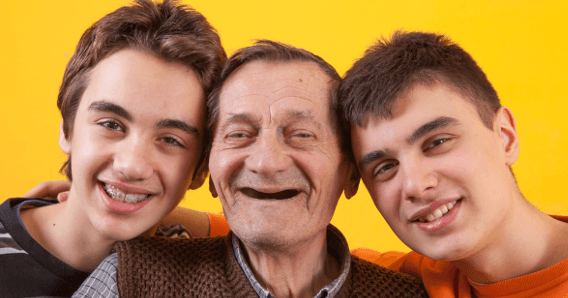 Total tooth loss affects 56% of Australians over 65. Implant-supported dentures are an effective treatment for total tooth loss, and can improve your chewing ability and speech.
Replacing missing teeth now will save you problems in the future
In 2007 an eBook was published entitled "Decline of the edentulism epidemic in Australia".
Were you aware there was an edentulism epidemic in Australia? Do you know what edentulism means?
Edentulism means you have no teeth. At all. None.  You're all gums.
Aside from the aesthetic unpleasantness of having no teeth, as health professionals we are more concerned with what it's doing to your body. A lot of people do not realise the additional impacts.
Tooth loss affects your whole body. When you chew you are stimulating your jaw promoting a healthy jawbone. The fewer teeth you have the less stimulation you provide which can result in some problematic effects including:
Jawbone degradation
Misaligned bite
Further tooth loss if untreated
Decline in the prevalence of tooth loss
The prevalence of total tooth loss (edentulism) in Australia has decreased dramatically. Between 2004 and 2006 68.5% of people over 68 were edentulous, that number has decreased by 15.5% in the last 4 years.
The prevalence of total tooth loss was due to two main factors: gum disease and extraction. As we've said a number of times, gum disease is the leading cause of tooth loss in adults. As for extractions there are times when a tooth is beyond repair and the only option is extraction.
Normally if you have a tooth removed, it is advisable to have it replaced with either implant dentistry or bridgework. Often people shrug off the loss of one tooth as 'not that bad.'
Why you shouldn't think of tooth replacement as optional
Your teeth affect your chewing ability, your speech, and the health of your jaw. When you lose one tooth it can cascade into further problems like those mentioned above.
To replace one tooth you are proactively looking after the health of your whole mouth.
Companies like Colgate have been attempting to increase public awareness of the importance of looking after your oral health. Humans only get two sets of teeth. The first set are really only there to pave the way for your "permanent" set of teeth.
By permanent we mean the last set of natural teeth your body will produce.
What to do if you are edentulous
Implant-supported dentures combine dental implants with dentures to provide your jaw the support it needs as well as restoring your speech and chewing ability.
Planning for the future
Once your adult teeth come through, that is it. Proactively looking after your teeth and gums can prevent gum disease and tooth loss. If you do suffer tooth loss, seek treatment. A lost tooth may seem innocuous, but it can be the first domino to fall.
If you would like to know more about implant-supported dentures, or how Brisbane Dental Implant Group can help you, please feel free to contact us.