Are there problems with dental implants?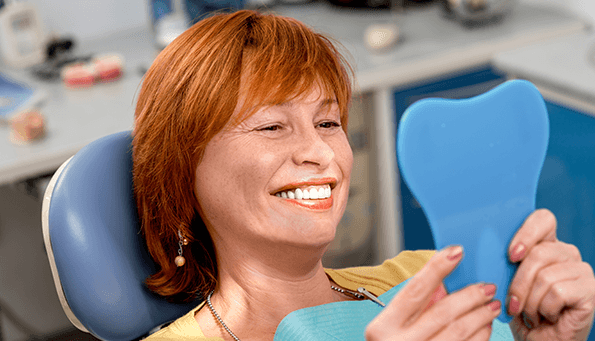 As with any medical treatment there are risks associated with dental implant treatment.
The standard medical disclaimer reads: "Surgery and all health regulated services carry risks which need to be discussed with your doctor. It is always recommended you seek a second opinion." One of the reasons for this standard disclaimer is people's individual health. What works for one person does not necessarily work for another.
You may have healthy jawbone density and good oral health: but you are missing a tooth and require a dental implant.
Or, you might have poor jawbone health, mediocre oral health and on top of that you might smoke. If you are missing a tooth and require dental implant the treatment it's a different process to a person of good health.
Additionally, poor oral health post-procedure can also cause problems.
Click here to read: Implant dentistry: a cheap treatment is not worth the risk
Click here to read: Planning for your future
Any surgical procedure carries risks
This disclaimer is advertised because patients need to realise each treatment has to be tailored to them and their health. Every patient needs to realise that what works for one may not work for another. This is why it's important to have a consultation and x-rays to ensure you are a suitable candidate for dental implants.
There aren't many problems with dental implants
The number of problems with dental implant treatment is few. One problem is whether or not your body will accept or reject the dental implant.
Prior to the high-quality biocompatible titanium metal used in today's dental implants there was a time when the rejection rate was quite high. Now however, it's virtually non-existent because of the type of implant used and the modern methods of placement.
Perioimplantitis: the biggest problem with dental implants
This is essentially periodontitis (the most severe form of gum disease) for dental implants. And is in fact the biggest reason for implant failure.
Roughly ten years ago most people (including some dentists) had never heard of perioimplantitis—and now as more and more patients receive dental implant treatment (because they are realising the long-term value of dental implant treatments) more cases or perioimplantitis  are being presented.
Looking after your oral health post-implant treatment
After your dental implant treatment at Brisbane Dental Group one of our staff will explain and provide you with after-care instructions to help maintain the health of your dental implant.
Looking after your oral health post-implant treatment is the same as pre-implant treatment. Brush your teeth twice a day, floss at least once a day and minimise sugar and high-starch foods.
It is also important to visit your dentist every six months. While you'll hear this all the time from your dentist, it becomes even more important after you have any sort of restorative work done. By visiting your dentist every six months they can assess your oral health, and the health of your dental implant.
If you would like to know more about how Brisbane Dental Implant Group can help you or to book an appointment, please contact us today.