What You Need to Know When Considering Dental Implants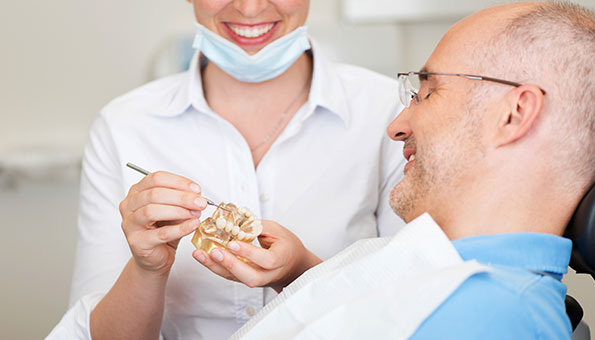 Dental implants have totally revolutionised the way in which we are able to treat tooth loss.
Because dental implants are so popular, they have made bridges and dentures basically obsolete. The benefits of dental implants are there for anyone to experience and will be with you every step of the way to ensure that you receive superior treatment and care. While it is difficult to say exactly what to expect after dental implant surgery, we can tell you that there is very little downtime and that we will provide you with tips that will help the process along.
So, what are some of the most frequently asked questions surrounding dental implant surgery? Let's have a look.
Will Dental Implants Look Natural?
Dental implants are meant to replicate your own teeth in every single way and their appearance will certainly surprise you. Patients often can't tell the difference between their prosthetics and their natural teeth. Prosthetics (the term we use to describe the visible part of the dental implant) have come a long way in modern dentistry and we are sure that you will be pleased with the outcome.
Why Are Dental Implants Better Than Dentures?
Dental implants are better than dentures for a few reasons. Firstly, dentures have a habit of making you look older than you actually are and can cause huge embarrassment to the wearer if they slip or fall out. Dentures are also detrimental to the simple pleasure of eating comfortably. They may also do more harm than good with regards to the loss of bone in the area where your teeth are missing by not providing enough stimulation. Another fundamental difference between dental implants and dentures is that dental implants are a fully fixed solution to missing teeth and are surgically placed under the gum in order to fully replicate a real tooth.
Many patients have also said that dental implants eliminate the day-to-day frustrations and discomfort associated with dentures. They are able to enjoy a diet without restrictions and have a renewed sense of confidence.
Why Have Dental Implants Become So Popular?
Smiling is such a simple pleasure, and everyone should be able to do it without fear or anxiety. As we progress in life, so too does our need for secure dental replacement systems that will become very important to our own health. This is why dental implants are so highly thought of by patients and doctors alike. They improve your quality of life while providing you with a full range of functional and aesthetic benefits.
Why Choose Brisbane Dental Implant Group?
Everything that you need in order to successfully undergo dental implant surgery is available to you at the Brisbane Dental Implant Centre, so you will never be bounced around appointment after appointment seeing different people all the time. We will build a relationship with you so that we can get to know your dental history and to tailor your treatment to suit your unique needs.
Our approach at the Brisbane Dental Implant Group incorporates a desire to not only provide our patients with excellent surgical care, but also to educate you the on the details of your treatment and other pertinent information. When you come to us for treatment you will experience compassionate, professional care from highly qualified and experienced medical professionals without the need for consultations at different practices and hospitals.
To find out more about our dental implants and tooth implant cost Brisbane, or to make an appointment with us, please click here.