Your Missing Tooth May Be Causing Serious Issues!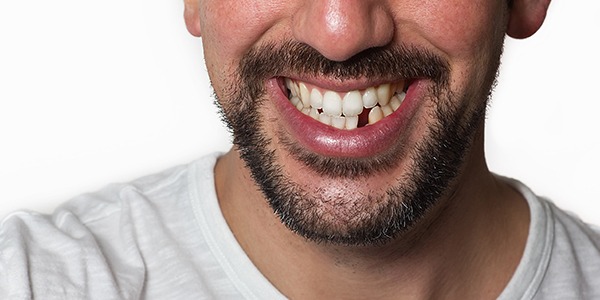 Tooth loss in any form can be devastating to your dento-facial appearance, health and function…
Have you lost one or more teeth and have not yet had them replaced or treated? Leaving a gap in your smile goes beyond being detrimental to your overall appearance; they can also cause a myriad of other issues concerning your dental health and function.
Why is it important to replace missing teeth?
Our teeth are interdependent on a host of other elements in the mouth, all of which are in perfect balance to remain healthy, strong and functional. When we lose a tooth, these other elements are greatly affected and can result in your oral health declining over time. At Brisbane Dental Implant Group we place emphasis on superior dental implant treatment in order to prevent other dental issues from occurring. If you do not replace a missing tooth in a timely manner, you leave yourself open to problems such as:
The teeth migrating in their own attempt to close the gap – resulting in crooked teeth or large gaps between the remaining teeth
Lack of jawbone stimulation – when a tooth is healthy it stimulates the jaw through its root, keeping the underlying bone healthy and strong. When a tooth is lost so is this stimulation, which can result in the jawbone deteriorating causing bone loss.
Poor oral health – when a tooth is lost the cleaning surface becomes much more difficult to keep clean, making it easier for bacteria to accumulate and cause inflammation.
Dental implants are a long term solution to tooth loss
At Brisbane Dental Implant Group we provide dental implant treatments all from one dedicated facility, so you have the convenience of only going to one place throughout your entire experience with us. Dental implants have become increasingly popular as they present a wide range of benefits such as:
Completely replacing the missing tooth at the root for a permanent solution to tooth loss
Stimulating the jawbone as the implant effectively mimics the function of a natural tooth
They allow for total bite pressure as they are strong and powerful foundations for your dental prosthesis
If you want a long term solution to your tooth loss and are tired of struggling with loose dentures or an incomplete smile, we can discuss all aspects of this treatment with you to determine if you are a suitable candidate. We can offer this treatment to virtually everyone from late teens to mature aged patients in their seventies and eighties.
For further information on dental implants or to book an appointment at our Brisbane dental implant facility, please do not hesitate to contact us.