Are Dental Implants Permanent?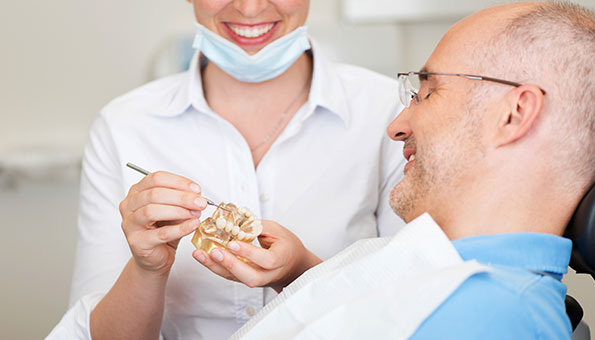 If you are going to undergo treatment to replace your missing or damaged teeth it is important to weigh up the permanency of the treatment to ensure you aren't starting a cycle of repair.
When it comes to dental implants their permanency is linked to a number of factors, all of which can positively or negatively impact your treatment.
This article looks at those factors and how they impact the lifetime of your dental implants.
Quality of implant, surgeon and crown
One of the important things to consider is that not all dental implants and crowns, nor dental implant dentists are created equal. There are varying sizes in the dental implant screw, varying qualities of dental crowns and varying experience and expertise levels of dental implant dentists.
Click here to read: What is the dental implant failure rate?
Click here to read: Dental Implants make Dentures old technology
It is important, when considering a treatment as serious as dental implants that you opt for the best treatment option available for your personal circumstance. Dental implants are not a treatment that you can cut costs on and still get the same result.
Some dental implant dentists, or oral implantologists have experience in more complex cases and are able to customise treatment to your specific needs rather than hope for the best.
Dental implants, when placed and cared for properly, can last a lifetime.
The placement of your implant
Depending on where the implant is placed in the jaw the permanency may change. If your dental implant has been placed on the top jaw it will have a different lifetime to a placement on the bottom. Similarly dental implants placed between two natural teeth have a different lifetime to implants placed where no natural teeth are positioned.
The angle of the implant will also have an impact on the permanency. This is something to discuss with your dental implant dentist.
Jaw bone density
When your dental implants are placed they are inserted into your jaw bone. Depending on the type of dental implant you require, the amount of jaw bone required will change.
If you are missing multiple teeth, or have lost teeth due to trauma or infection you may have jawbone that has decreased in size. Depending on the cause of this decrease (i.e. bone resorption) any continuation of bone loss can lead to implant failure.
Poor care and hygiene
If you do not care for your dental implants their permanency can be severely impacted. Dental implants, including the titanium implant and crown, need to be cared for. Hygiene measures need to be followed strictly to insure no infection or gum disease forms as these can cause implant failure if not properly treated.
Other health concerns
There are a list of other health concerns that can lead to your dental implant/s failing. It is important you discuss this with your dental implant dentist to ensure you are a good candidate for treatment and you remain as such.
So… are dental implants permanent?
Dental implants when placed correctly and cared for can last you a lifetime. Dental implants have a success rate of 98% so the measures needed to retain them should not be a deterrent.
To discuss your dental implant needs as well as your own personal dental situation please arrange a consultation with Dr Michael Howard here at Brisbane Dental Implant Group.