Dental Implant-Supported Dentures : What you need to know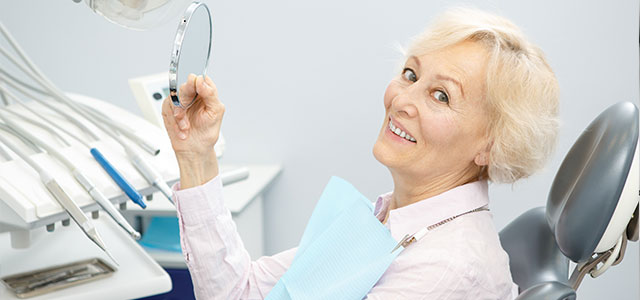 Here at the Brisbane Dental Implant Group, we provide a comprehensive range of care including dental implant-supported dentures that will keep your smile looking its best
Losing teeth can be an embarrassing scenario particularly if you spend time in the public eye. But, it needn't be something that goes untreated and our dental implant treatments are a simple, effective way of lengthening the lifespan of your dentures. Our staff are caring, considerate and wholly dedicated to creating a positive change to your dental health in whatever way we can. By providing care and treatment of the highest calibre, we aim to build lasting relationships and to be supportive of them throughout their journey toward their dental goals.
Everything you need is provided for you under one roof and we have a team of expert oral hygienists and dentists with a wealth of experience between them.
Why Implant-Supported Dentures?
Over time, traditional dentures have a knack of coming loose because of the ineffectiveness of their dental adhesives to properly keep them in place. They also become loose because without teeth your jawbone atrophies and shrinks.
With implant-supported dentures, we can address that problem far more effectively and provide a longer-lasting treatment plan for missing teeth. One of the many benefits of dental implants is their ability to stability fix either dentures without worrying about the adhesives coming loose.
Loose dentures can also make it incredibly difficult to eat and speak properly and dental implants can help improve your oral health on several aspects. The dental implant procedure itself is:
minimally invasive
puts an end to the running costs of adhesives
restores your ability to chew food properly
maintains the jaw bone and its structure
During your first consultation, we take an x-ray as well as a mould of your teeth in order to observe the implant position. After this, we can then advise you on the best course of treatment and how to proceed. It is an excellent treatment for those looking to replace their missing teeth and improve their oral hygiene in the process.
Types of Implant-Supported Dentures
Of the three-dental implant-supported treatment solutions, each has their own benefits and we will always recommend the option that is best for you.
Fixed Dentures
Should you need to replace all of your teeth we can create a custom-made overdenture that can be fitted to your dental implants as soon as your gums have healed. Due to the fact that this overdenture is supported by the dental implants, it can help to stimulate the jaw and maintain its bone mass as well.
Removable Dentures
Removable implant-supported overdentures are fashioned in a similar way to fixed overdentures. The major difference being that once the dental implants are inserted into the jaw, there is a custom-made bar attached to those implants to provide added support for the overdentures that are too placed on over them. This allows you to clip your overdentures in and out of place, so you can clean them on your own.
Implant-Stabilised Overdentures
Implant-stabilised overdentures, much like the other options are created individually and to match your unique needs. But a smaller number of implants are used in order to stabilise the denture. This also allows them to be taken out every night in order to be cleaned.
Implant-Supported Dentures from Brisbane Dental Implant Group
It's never too late to repair your smile and if you have lost teeth over the years through age or trauma, we implore you to consider dental implants. Not only will they improve your dental health, but they will give you the confidence to smile again and stave off the signs of premature ageing. To make an appointment or to find out more about implant-supported dentures, please click here.