What are teeth implants?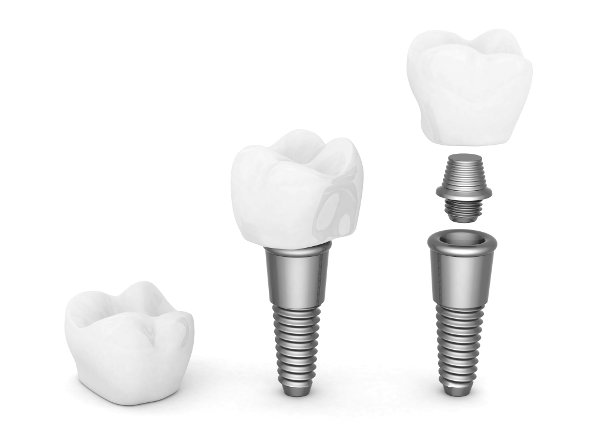 You won't find anyone in dentistry calling them teeth implants. And sometimes patients mean dental implants sometimes they mean implant dentistry. The only difference being is a dental implant is part of the implant dentistry treatment.
Click here to read: What are my options to replace missing teeth?
Click here to read: How long do dental implants last?
Teeth implants Brisbane
Teeth implants are what dentists refer to as implant dentistry. Implant dentistry is a three part process of replace your whole tooth with prosthetics.
The first part of the treatment is inserting the dental implant at the site of the missing tooth. A dental implant is a medical-grade titanium screw that integrates with your jawbone. This process is known as osseointegration and takes anywhere between 3 and 4 months to take place. Once your jaw and implant have fused, you will have a strong and sturdy tooth root.
The next step is an abutment is attached to the implant: a few weeks later, when your gums have healed, the dental crown, bridge or denture will be attached to the abutment. After this has been successfully completed you will have a whole tooth replacement.
As we mentioned above, there are three parts to implant dentistry. And from start to finish the treatment from placement of the dental implant to the attachment of the prosthetic tooth attachment can take 6 months.
The osseointegration process is what determines how long the treatment will take. On average your jaw will take three months to fuse to the implant. However there are four reasons which can affect healing time:
If the implant is placed in the upper or lower jaw.
Your body's natural ability to heal.
Your overall health.
If you smoke.
If your dental implant is placed in the upper jaw it will take longer than if placed in the lower jaw. Also, smoking affects your body's ability to heal not to mention it can dry out your gums which adversely affects your healing time.
Why Brisbane Dental Implant Group is your place for teeth implants
When it comes to replacing teeth, the qualified team at Brisbane Dental Implant Group can help restore your smile with our dental implant process. We have oral and maxillofacial surgeons, a prosthodontist, an orthodontist and a dentist with a special interest in dental implants.
The benefits of dental implants from us are having all these dental professionals under one roof is that you don't have to travel from clinic to clinic making various appointments with different receptionists.  At Brisbane Dental Implant Group all your dental implant needs are catered to.
If you would like to know more about how Brisbane Dental Implant Group can help you, or to book an appointment, please contact us today.