Should I get a tooth implant?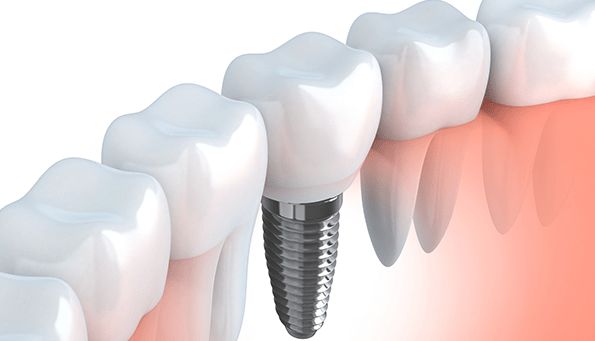 A dental implant is the best option for replacing missing teeth
When you lose a tooth it affects your jaw, gums and remaining teeth. A lost tooth also affects speech and eating. Did you know specific sets of teeth have specific functions when it comes to eating?
Your front teeth are for tearing food and your back teeth are for chewing. If you lose back teeth you then have to chew with teeth designed to tear. Over time this can expose your teeth to forces they aren't designed for, which can result in tooth wear and damage.
By replacing a missing tooth with a tooth implant you can help restore your chewing function and look after your remaining teeth.
Click here to read: Should I get Dental implants or root canal therapy?
Click here to read: Planning for your future
Why replace missing teeth
Not only does replacing missing teeth look after your remaining teeth, dental implants also look after your gums and jaw. How?
When you talk, the pressure from your teeth provides jawbone stimulation and promotes a healthy jawbone. Losing a tooth means your jaw loses the support and pressure necessary for stimulation.
By replacing the whole tooth, you provide stimulation to your jawbone. Did you know when you lose a tooth the jaw bone that holds the tooth root in place starts to atrophy? This means the jaw bone starts to shrink and dissolve—this does not grow back. And it will affect surrounding teeth as well, giving you a sunken, aged appearance.
Dental implants provide support to your jawbone. By replacing the missing tooth root with a dental implant you are providing your jaw with the necessary support to maintain and sustain healthy jawbone stimulation.
The dental implant is placed at the site of the missing tooth, and made from biocompatible metal. The implant fuses with your jawbone and provides the support of a natural tooth root.
Why you should get a tooth implant
There are many tooth replacement options: from bridges and dentures to dental implants and implant-supported dentures. The advantage of implant dentistry, of replacing the whole tooth instead of just the tooth above the gum line, is the health benefits that come from a tooth implant.
The dental implant part of your treatment replaces the tooth root, providing support for your jaw, your gums and for the dental prosthetic. It also lasts longer than other tooth replacement treatments.
A tooth implant will last longer
If you want a treatment that lasts for more than 10 years, and that will restore the function and aesthetics of your smile; then dental implant treatment is often the best treatment to achieve these goals.
At Brisbane Dental Implant Group we offer a range of dental implant treatments to help you restore function and aesthetics to your smile. If you would like to know more about how Brisbane Dental Implant Group can help you, or to book an appointment, please contact us.