Are traditional dentures the only false teeth available?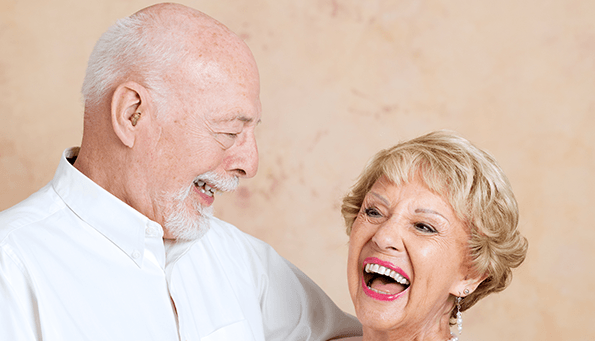 Thanks to advances in dentistry there are now many ways teeth can be replaced.
Are you missing teeth?
Wondering what your options are?
Dentistry now provides multiple tooth replacement options, from dental bridges and dentures to dental implants.
Click here to read: Say Goodbye to Wobbly, Loose Dentures
Click here to read: Gum disease and tooth decay have caused 20% of adults to suffer total tooth loss
Which tooth replacement treatment is right for you?
At Brisbane Dental Implant Group we offer implant dentistry. This is a form of dentistry that replaces missing teeth through implant-supported restorations.
Dental implants can be used to support dental crowns (to replace one tooth), bridges (to replace two or three teeth) and dentures (partial or full). Depending on the state of your oral health, and how many teeth you need replacing, we will determine the best treatment for you.
False teeth and your oral health
A missing tooth affects the health of your jaw, your gums and your remaining teeth: which is why it is beneficial for your oral health to replace a missing tooth with implant dentistry.
The reason implant dentistry is beneficial is because it replaces your whole tooth. It is the genuine false tooth, insomuch as it replaces both the tooth root and the tooth crown. Prior to implant dentistry the only part of the tooth that was restored was the tooth crown. While this benefited eating, speaking and chewing it didn't look after the health of your jaw. Additionally, false teeth like dentures and bridges, not supported by implants, involved either the healthy tooth structure being compromised or uncomfortable dental bonding and hooks to try and keep dentures in place.
Dental implants provide the support you need
The advantage of replacing a tooth through implant dentistry is that it replaces the whole tooth. The dental implant is made from biocompatible titanium, which allows your jawbone to successfully fuse with the implant creating a strong and sturdy tooth root.
It can take up to three months for your jawbone to successfully fuse with the dental implant. Once it has, a Brisbane Dental Implant Group dentist can place a crown, bridge or denture to the implant.
Dentures and dental implants
If you require a denture we offer a variety of options to suit your needs. Implant supported dentures provide the support your jaw needs, as well as providing an anchor for the dentures. No longer do patients have to worry about their dentures slipping and sliding.
At Brisbane Dental Implant Group we offer three implant-supported denture options:
Fixed
Removable
Implant stabilised
Benefits of implant-supported dentures
There are a number of benefits of supporting dentures with dental implants: five of these benefits are:
Improved speech and confidence.
It's a minimally invasive procedure.
Eliminates the cost as well as the inconvenience of denture adhesives.
Restores proper chewing.
Helps stimulate your jaw and maintain bone structure.
When you visit Brisbane Dental Implant Group one of our dentists will assess your oral health and determine the best form of treatment for you.
If you would like to know more, or to make an appointment at Brisbane Dental Implant Group, please contact us today.